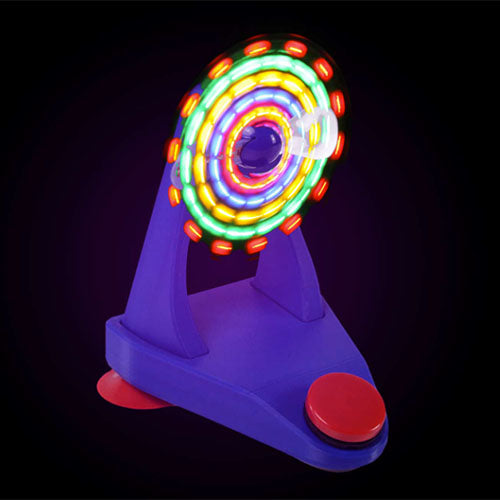 Stay cool and be entertained with this extraordinary, adapted fan that's also a light show! With just the push of the button, the fan's LED lights create more than 30 different color patterns. Two suction cups hold the fan in place and it also works with a switch.
Seizure warning: Do not use the LED Fan with seizure-prone individuals.
Activate the Way You Want
We designed this adapted fan to activate in two ways:
Press the red button on the front of the fan
Connect the capacity switch of your choice to the external jack
Additional Features
The LED Fan also includes features like:
Usable with three AAA batteries
Sturdy base with two suction cups
Continuous play mode available with a side switch (not compatible with built-in or adapted switch)
This product's durable and accessible design makes it suitable for a wide range of users.
How Does This Product Help People with Differing Abilities?
Our LED Fan assists people with disabilities in two ways:
Increasing sensory stimulation:

 

This light-up fan offers tactile and visual stimulation with the activation of a button. The blowing air from the fan creates an especially unique sensory experience.
Teaching cause and effect:

 

Like many activated toys, the LED fan helps you understand how cause and effect works. Experiencing the fan activating after interacting with the switch promotes a link between the two events.
You might think of even more ways that you can add enrichment with this extraordinary toy.