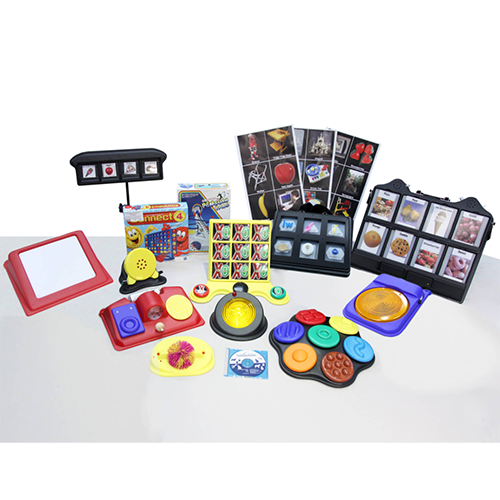 Kit for Visual Impairments
Kit includes:

4 Choice Sequential Scanner for the VI
4″ x 5″ VI Communicator
Tactile Symbol Communicator
High Contrast Icons
Musical Light Box
Visually Impaired Activity Center
Tic Tac Toe
Bright Switch for the Visually Impaired
Adjustable Angle Sequencer w/Switch
Penguin Roller Coaster**
Connect Four w/Tactile Pieces
Totally Tactile Communicator
Print It! Icon Maker
Koosh Switch*
Vibrating Light
*This product is not suitable for those allergic to latex.
**Warning: Choking hazard. Small parts. Not for children under 3 yrs.
NOTE: Due to supply chain issues, we may substitute items of equal or greater value and similar functionality.