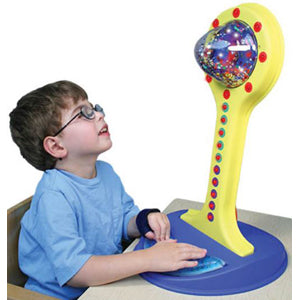 Multisensory entertainment reaches new heights with this motivating toy that recalls carnival strength-testing attractions. Press the toy's gel pad, and lights track upward indicating the force of the pressure from the player and producing a corresponding sound effect. When pressed with full force, the user is rewarded with a rainbow of lights, vibration, music, spinning glitter and sound effects providing tactile and visual stimulation. Activation pressure levels are adjustable.
Size: 11"W x 14"D x 21"H.
Requires 6 AA batteries (not included).