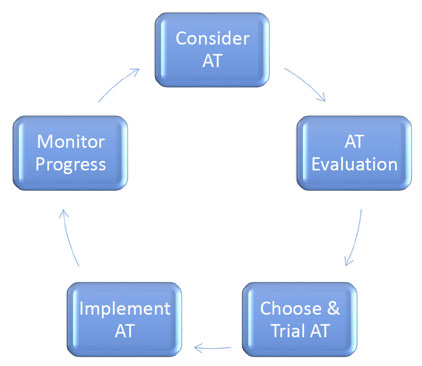 The Assistive Technology Assessment Guide (ATAG) is a training module that comprises eight sections, introducing key terms and concepts, examples of various low to high-tech assistive technology, and the five steps in the AT Cycle.
Lessons include video presentations, downloadable handouts with fillable sections for notes, case studies, reflection questions, and quizzes throughout to help you stay on track.
At the end of the training, you will be able to download fillable PDF forms for every step in the assessment process. These forms guide the team through the consideration process, assessment, selection, and trialing of AT, implementing AT into the curriculum, and monitoring the technology to ensure each student has a successful assistive technology experience.
As an ATAG member, you will have access to the course and all the materials for one year – but you also receive one year of remote coaching support to ensure success.
Pricing:
Individual - $300; includes six months of mentoring for a total of 12 hours (one hour per month)
District 2 - $5500 for up to 10 staff members; includes twelve months of mentoring for a total of 24 hours (two hours per month)
District 4 - $7800 for up to 10 staff members; includes twelve months of mentoring for a total of 48 hours (four hours per month
Districts can add additional staff members at $200/person