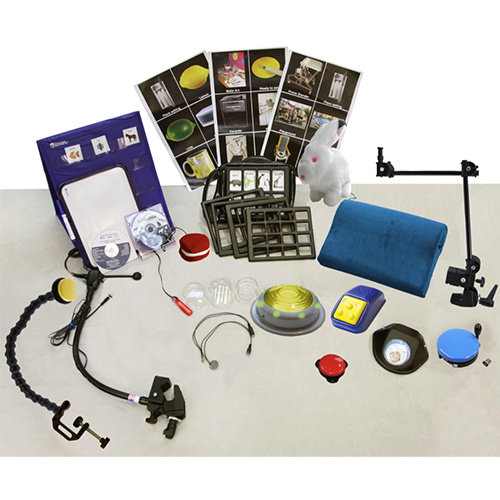 AAC Lite Tech Evaluation Kit
Communicators — AAC Assessment Kit
Speech therapists use Augmentative and Alternative Communication (AAC) assessments to diagnose an individual with a communication disorder and prescribe a course of action to help them function or acquire communication skills.
Many people — both children and adults — benefit from AAC assessments. Speech therapists provide screenings for specific limitations that can interfere with language development and communication.
Products Needed for an AAC Assessment
Speech therapists work with a wide variety of individuals. Accordingly, these professionals need tools to help them accurately conduct AAC assessments for people of all ability levels.
This kit supplies speech therapists with everything they need to serve their clients, including communicators, switches, switch-adapted products, mounting equipment, and icon-making software. Our products can help you assess individuals with diverse motor and verbal capabilities.
Benefits of Buying a Kit
As a speech therapist, you want to focus on serving your clients and providing them with solutions that work. For this reason, we have created a complete AAC assessment kit for Speech Therapists. It includes 24 essential items any therapist should have in their office.
With all these tools at your fingertips, you can save time and money and spend more energy helping the people who rely on you. Consider ordering our AAC assessment kit or contact us today for more information.
Included in kit:
COMMUNICATORS
Small Talk Sequencer with Levels
7-Level Communication Builder
Auditory Communicator
Tabletop Pocket Chart w/Dry Erase Board
SWITCHES
Computer Mouse Interface
Taillight Switch, Say It Play It
Gumball Switch (Red)
Textured Tops for Gumball (Set of 4)
Gumball Switch on Easy Flex Mount
Ultimate Switch
Petite Pillow Switch (Red)
Pinch Switch
Battery Interrupters AA, C, D (Set of 1 of each)
SWITCH ADAPTED PRODUCTS
Floppy Bunny
Vibrating Pillow
ICONS & PHOTOS
Print it Icon Maker
High Contrast Icons
MOUNTING
Light Duty Magic Arm System
SOFTWARE
AAC Evaluation Genie Free Software – www.humpsoftware.com
NOTE: Objects and icon images are not included. Due to supply chain issues, we may substitute items of equal or greater value and similar functionality.